Name of Project:

Best Western Premier Sonasea Phu Quoc
Investor:
Phu Quoc Limited Company (a member of CEO GROUP)
Location
Truong Beach, Phu Quoc, Kien Giang
Total area of the project:
 132 ha
Project scale:
 2 blocks consists of 9 floors with 549 apartments & 17 villas
Apartment information:

467 units of 1BR: 35-56 m2

58 apartments with 2 bedrooms: 66 – 92 m2

23 units 3BR: 112 – 180 m2

1 Presidential Suite: 245.72 m2

Villa information:

11 villas with BR – Ocean View: 406 m2

02 villas with BR – Ocean View: 505 m2

03 villas with 05 BR – Ocean View: 816 – 1210 m2

Design unit:
Kume Asia Design Co., Ltd
Construction unit:
Hoa Binh Construction and Real Estate Corporation
Start:
Q2/2017
Home consoles:
Q4/2018
Director in charge of business:
P: 0902 577 898
Sales Manager:
P: 0932 728 968
P: 0965 886 619
Project Admin:
P: 0984 177 369
---
ISLAND SPIRITS
Feng Shui: Although Sonasea Condotel & Villas is a long-term resort or investment, Feng Shui is also an important factor in the decision of the customer. Indeed, the location of the project has a unique "waterfront position", with the front facing the sea. The back side is the majestic Duong To mountain range and the Cua Lap – An Thoi road embraces the project. For the concept of East Asia, this is considered a land of profit and promise to bring wealth to the owner.
Area links: Not to lose the pristine nature inherited in Bai Truong, while improving the infrastructure around the project, the investor CEO Group spent 1000 billion for the supply of internal roads, water supply, roads to project. On the other hand, to reach the project, visitors only take 7 minutes from the international airport and 15 minutes from Duong Dong airport. Also, thanks to the central location, the project is very convenient to connect to the most vibrant cities in Southeast Asia with only 1 hour flight.
Modern infrastructure: Oriented to become a special economic-economic zone by 2020, Phu Quoc's face is gradually improved with the system of cross roads, underground cable, fresh water, international seaport, Phu Quoc Casino, zoo Safari, the longest cable car system in Southeast Asia, 27-hole golf course, Vinmec hospital, Vinpearl outdoor park … At Phu Quoc international airport, direct flights from Russia, China Sweden HCM, … have been established.
OUTSIDE FACILITIES
Phu Quoc International Airport (capacity of 5 million passengers / year)
Road system across the island
Waste Disposal Station (under construction)
International seaport (capacity of 7000 passenger vessels accessible, will be completed by 2017)
Cable system through the sea
Safari Zoo
Casino of international stature.
INSIDE FACILITIES
Gym room
Tennis course
Outdoor pool
Sky bar
Kids club
Restaurant
Pool bar
Spa
Karaoke room
LOCATION OF PROJECT
Best Western Premier Son Son Resort Phu Quoc is a 5 star resort located at SR2B plot of Sonasea Villas & Resort. Sonasea Villas & Resort is invested and developed by CEO Group (CEO Group), stretching nearly 2km of Bai Truong beach – one of the long and beautiful beaches of Phu Quoc, where beautiful sunset view. most in Vietnam.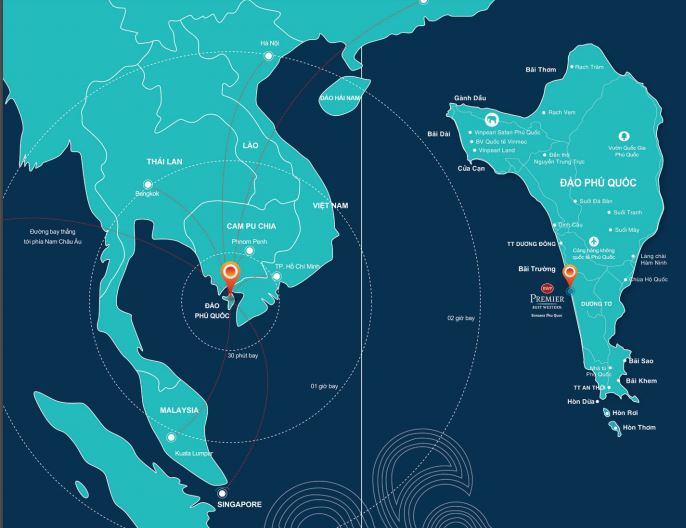 From BWP SONASEA PQ, visitors only take 5 minutes drive to Phu Quoc International Airport, 10 minutes to Duong Dong town or An Thoi town – the two largest and oldest residents of Phu Quoc. Convenient to travel to other famous tourist spots of Phu Quoc.
BWP SONASEA PQ owns a private beach with a length of nearly 1Km, to BWP SONASEA PQ you not only pioneer the Pacific Ocean wind, but also admire a masterpiece that nature gifted it. The sunset is one of the two that make romantic couples or families want to choose where this destination.