PROJECT OVERVIEW
Investor: TML Company Limited (Vietnam) – a subsidiary of Mapletree
Land area: 16,684 m2
Building density: tower block 40%, base block 50%
Product type: high class commercial apartment
Project scale: 5 towers (Soleil, Viento, Jardin, Ciel, Lumina), 22 floors / 01 tower
Floating Parking Floors (T1-T2)
3rd floor: basketball court, adult pool, children's pool, jacuzzi, relaxing garden,
Total number of apartments: 779 units + shop house
Floor 4-20: typical apartment.
Floor 21-22: Duplex
Address: Area I – Residential area of ​​Thanh My Loi Ward, District 2, Ho Chi Minh City
Location: 4 front of Bat Nan street – Nguyen Van Kinh – Ta Hien street
Vietnam
Form of ownership: Permanent
Type of apartment:
01 BR ( 54-59 m2 – 49-53 m2)
02 BR (76-84 m2 – 68-77 m2)
03 BR (104-111 m2 – 94-101 m2)
Duplex / Penthouse: (150-344 m2 – 135- 317 m2)
Units implementing the project:
1. Architectural design: P & T design and engineering consultancy – Singapore
2. Electromechanical Design: Rankine-Hill Co., Ltd
3. Landscape Design: COEN
Describe further:
One Verandah project of Mapletree developer from Singapore is a high-end apartment project located in Thanh My Loi ward, District 2. According to experts, One Verandah is expected to create a new high-grade apartment fever in Thanh My Loi area.
---
CONTACT INFO
DIRECTOR IN BUSINESS (Person in Charge)
Mr. Nguyen Long Son
P: 0902454484
DIRECTOR OF SALES (Project DD 1)
Ms. Tong Nam Tran
P: 0911408858
DIRECTOR OF SALES (Project DD 2)
Mr. Bui Hoang Tuan
P: 0909091605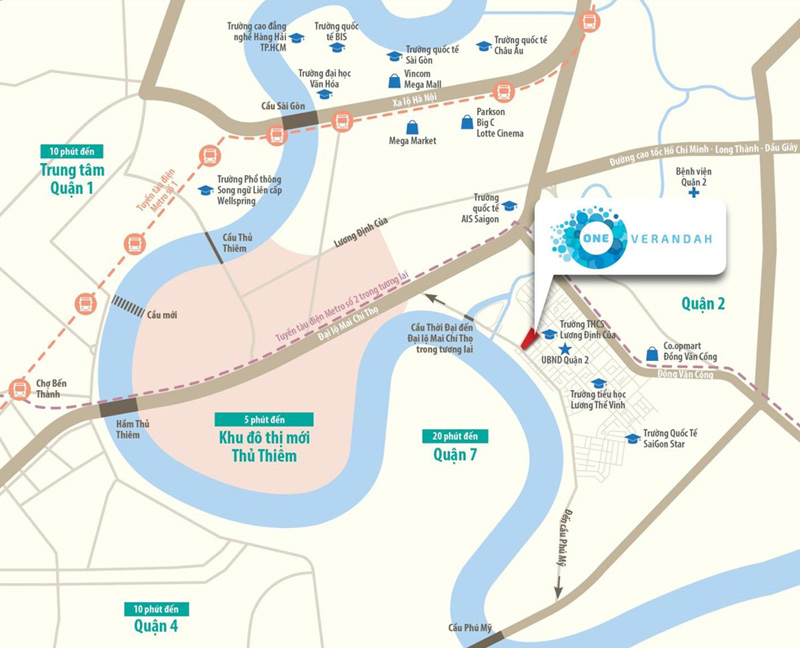 One Verandah is located in Thanh My Loi Ward, District 2, Ho Chi Minh City, located at 4 front of Bat Nien Street – Nguyen Van Kinh – Ta Hien – 103.
This is a favorable geographical location as the City People's Committee and the City Transport Department have just started the construction of the bridge over Diamond Island, creating a new, convenient and safe new supply corridor. Travel time with other districts in the city.