PROJECT OVERVIEW
Investor: MIK HOME INTERNATIONAL TRADING CO., LTD
Project Development Unit: MIK Group
Distributor of the project: MIK Home
The total land area of ​​the project: 117,063.80 m²
Total construction area of ​​the project: 36,382.25 m²
Area of ​​green park: 21,402.62 m²
Area of ​​water surface: 12,188.40 m²
Construction density of the whole area: 55.76%
Product type: Shophouse, townhouse and villa
Project scale: 319 units
+ 39 Shophouse
+ 182 adjacent townhouses
+ 34 Duplex villa
+ 34 single villas
Expected delivery: Q1 / 2018
Address: Bung Ong Thoan street, Phu Huu ward
Location: District 9, Ho Chi Minh City
Vietnam
Ownership:
+ For Vietnamese: long-term ownership
+ For foreigners: owns 50 years
Additional Description: Heart of the East
Being planned as urban intellectual and high technology, the East of Ho Chi Minh City is in the development stage with a series of projects, key projects. The potential of District 9 is open, the appearance of which also brightens and changes every day to create a new dynamic city. In the beautiful panorama, the "heart of the East" has been completely surrounded by Park Riverside Premium project. And so, a living space fashionable – qi gas – class on the meandering blue river is welcoming a community of generous, glorious life …
PROJECTS FACILITIES
Impression: by the natural blue patches along the riverside park and landscape lakes 1.2ha wide.
Level: by resort-style resort facilities such as swimming pool, golf course, tennis court, gym, 5 star marina, …
Converging: On a strictly protected, professionally managed campus, it creates the most sought after community of townhouses – security villas.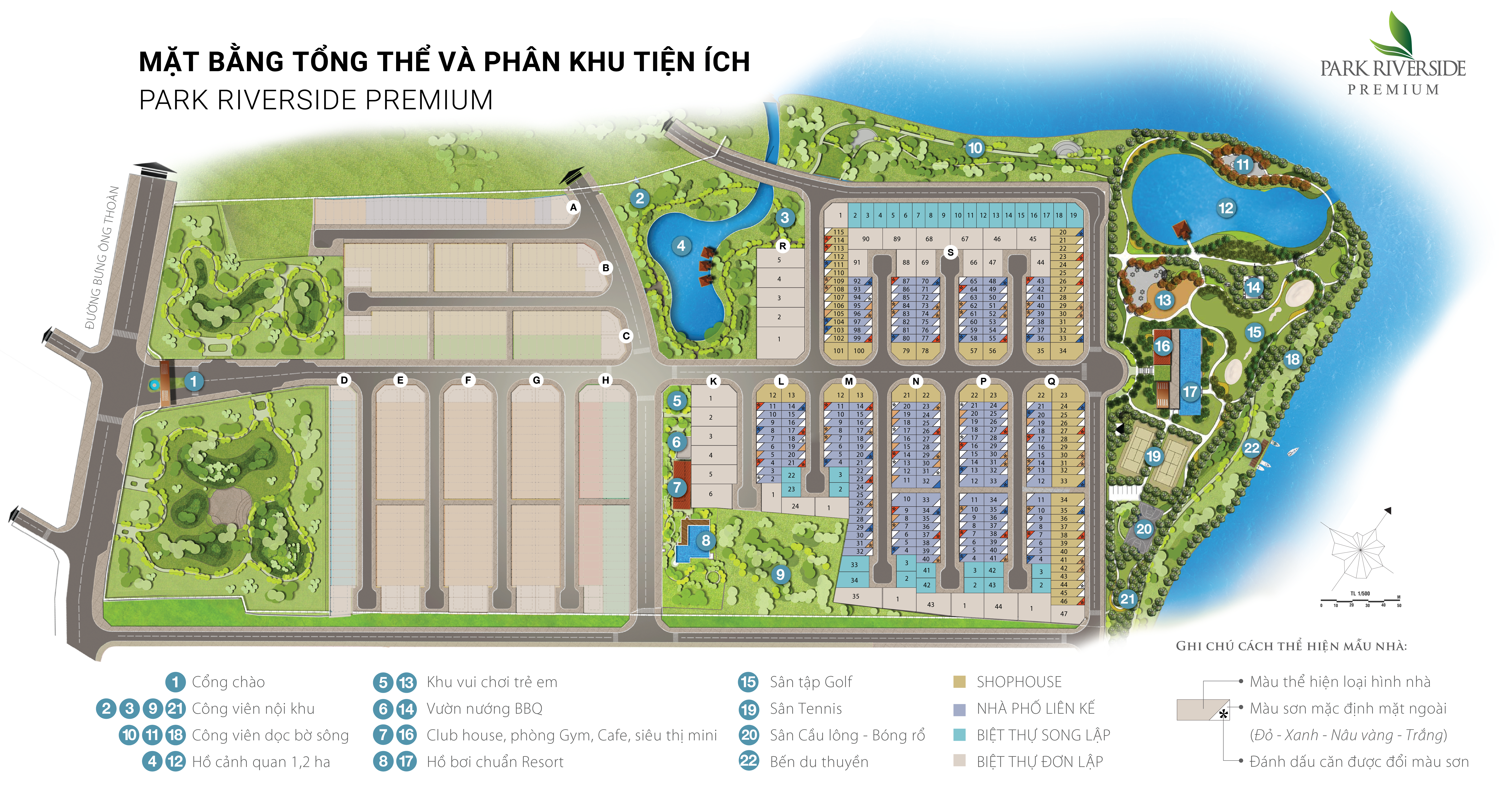 ---
CONTACT INFO
DIRECTOR IN BUSINESS (Person in Charge)
Mrs.  Nhan Nguyen
P: 0907 727 516
DIRECTOR OF SALES (Project DD 1)
Mrs. Vo Ngoc Anh
P: 0906 352 884
DIRECTOR OF SALES (Project DD 2)
Mrs. Tran Ngoc Quynh Loan
P: 0901 952 6671
FENG SHUI
The community prosperity
Rich and glorious
Located right on front of Bung Ong Thoan street, Phu Huu ward, District 9, HCM, Park Riverside Premium owns the most favorable location in the population of high-end residential community and easy linking district amenities. Such as supermarkets, hospitals, schools, amusement parks, … ensure the residents an ideal life.
Benefiting from the benefits of modern transport infrastructure, adjacent to Long Thanh – Dau Giay Highway, Vo Chi Cong Avenue, the heart of the East, Park Riverside Premium convenient to connect with key areas Q9 high-tech park, Q2 administrative center, Q1 financial street, crowded urban area of ​​Q7, Long Thanh international airport.
12Km from Phu My Hung urban area
– Phu My bridge
– Vo Chi Cong Avenue
– Lien Phuong Street
– Bung Ong Thoan street
13Km from District Center 1 to
– Saigon River Basin
– Mai Chi Tho Avenue
– Long Thanh – Dau Giay expressway
– Vo Chi Cong Avenue
– Lien Phuong Street
– Bung Ong Thoan street